For the last goodness knows how many years I have made an annual 'pilgrimage' to 3 rue Sainte Claire in the mediaeval town of Dinan in North Brittany. At that address, behind a modestly unassuming shopfront is an Aladdin's cave of wine. For this is the legendary La Cave Des Jacobins, perhaps the best wine shop in France – certainly in Brittany.
Let's face it – buying wine can be a daunting experience at the best of times. It is easy to find yourself out of your depth and not waving but drowning. How often does that happen in your local off-licence in the UK? How many times have you left the off-licence with a bottle or two that cost more than you expected and about which you know less than you anticipated. Against that backdrop of foreboding, wine can do nothing but disappoint.
Not here. Not at La Cave Des Jacobins. The staff are wonderfully helpful, informative and encouraging. If you ask for advice, you get unbiased, descriptive information. If you are neophyte, they encourage rather than intimidate. They want to build relationships not simply have customers. And it is the measure of their success that almost everyone entering the store receives the favoured Gallic reception – lots of smiles and hugs and kisses on both cheeks. Long lost friends reunited. When did you last get that treatment in Oddbins?
Each year, I visit La Cave along with my good friend Peter. Peter is well known to them, a regular customer. Céline and Clothilde greet him like family.
When we arrive, the shop is empty. Vincent has just nipped out to the Bar-Tabac a couple of streets away to buy a lottery ticket – it is a major rollover week in the Euro millions. Céline phones the bar and says that "monsieur Peter est arrivé" before departing to Le KeepFit. Clothilde returns to her accounts. The paperwork for September needs to be finished.
Julien emerges from the cellar, blinking in the light. He sees Peter. More greetings. Peter is in the process of introducing me again when Julien cuts him short, saying that of course he knows me from previous years. It is heartwarming. I only visit once a year but they still remember me. In fairness I do tend to buy a lot of wine – last year Peter and I spent €1100 between us.
The doorbell tinkles and in marches Vincent, brandishing, in his estimation, the winning ticket for the lottery. Clothilde raises both eyebrows, unconvinced. More greetings. More exchanges of family news and gossip. It is a good 15 minutes before we even begin to discuss wines. Clothilde returns to her accounts.
Peter, along with my eldest daughter and her husband, works with Julien to fulfil his oenological needs while Vincent turns his full attention to me. I present him with my list. He quickly skims through what I have written (I'm amazed he can read my handwriting frankly) and sets to work. Occasionally, he tells me that a certain wine is out of stock – will I accept a better wine from the same region, at the same price. Or, on one occasion, they substituted a magnum where they had run out of bottles. They still charged me only the bottle price.
Eventually, my selections are all completed, discussed and where appropriate modified. The wines are boxed up, ready to be taken to the car. Julien asks me about a couple of French regional wines that I have not listed – organic wines from Nizas. I ask how much. "Rien. Gratuit" says Julien.
It's the same every time I go. If they feel there are gaps in my choices, they often fill them with additional bottles, nearly always free. As I said, it's a family operation and they want you to feel part of that. They want to build relationships. And they have been – since 1945.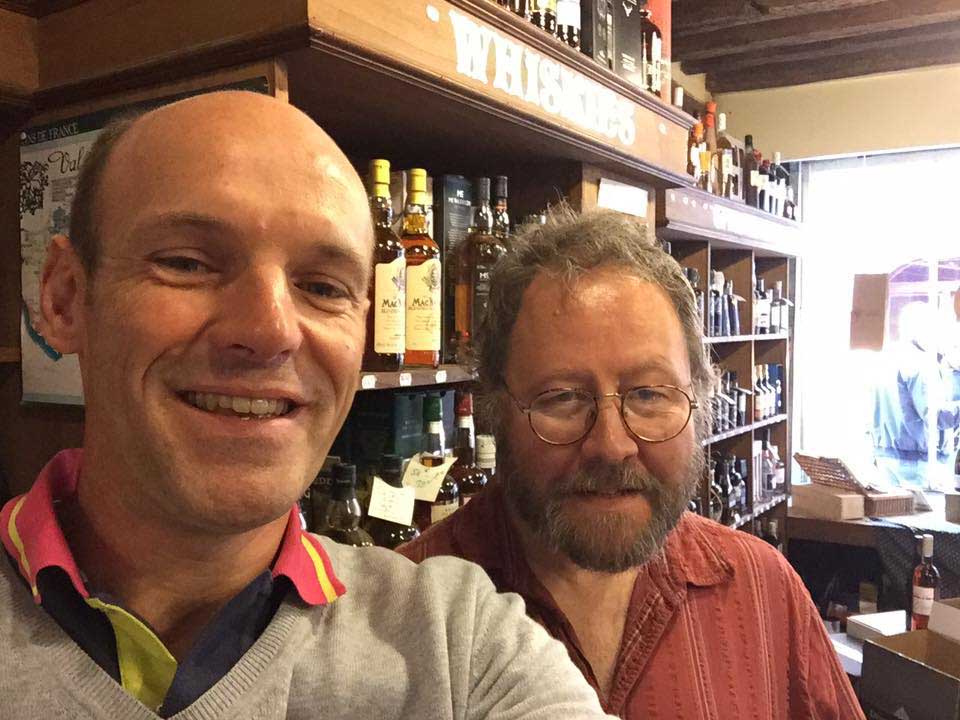 I gesture to Vincent that I want to take a picture of the two of us but I do not know the French word. "Un selfie" he says. "Ah" I reply "c'est la meme en Anglais". Vincent faceplants.
We load up the car – Peter and I have topped the €1200 mark this time. We hastily work on credible explanations for Julie, Peter's wife. She already regards Peter and I as the worst possible influences on each other!
By the time we are back in Epiniac, we have the story straight and are well rehearsed. "Okay" I say to Peter "The Minervois and Languedoc are fine but were not going to say anything about the case of Chablis, right?"
Peter nods. I think we may get away with this…