I know I keep banging on about it but sleep is everything for me. Too little and my waking world disintegrates in a cornucopia of cognitive chaos. Too much and…well, I can't remember when that last happened.
Sleep deprivation is my nemesis and I have reported many instances thereof. So, flying a third of the way round the globe and reeling back 8 hours of time difference might be expected to kick things into touch. Right?
Wrong. Well, wrong in this instance. OK I was dozing during the girls' set yesterday but that's hardly unusual – After all, I have slept though some of King Crimson's finest (and most energised and exuberant) musical machinations. Two giggling folkies, an acoustic guitar and an african drum stand no chance.
But last night I had six, almost seven, hours of sleep. Premium sleep. Deep sleep with vivid dreams. Ok, I know the return journey has the capacity to be hellish, but I will have a plan in place by then.
In any case I don't want to talk about sleep. I want to talk about dogs. I am a dog person. Cats don't float my boat. I apologise to my cat owning friends. It's nothing personal. But It's hard to bond with something that doesn't care whether you are alive or dead, except at meal times.
Dogs are different. When a dog loves you, it is unconditional. Sometimes they may be confused by you or your actions but they never stop loving you.
As many of you know, I have partial custody of Louis The Magnificent, as fine a standard poodle as you will ever see. But there are many more types of dog. And today I met, properly met, two very fine hounds – Cassie and Missy, as entertaining a canine double act as you will ever see.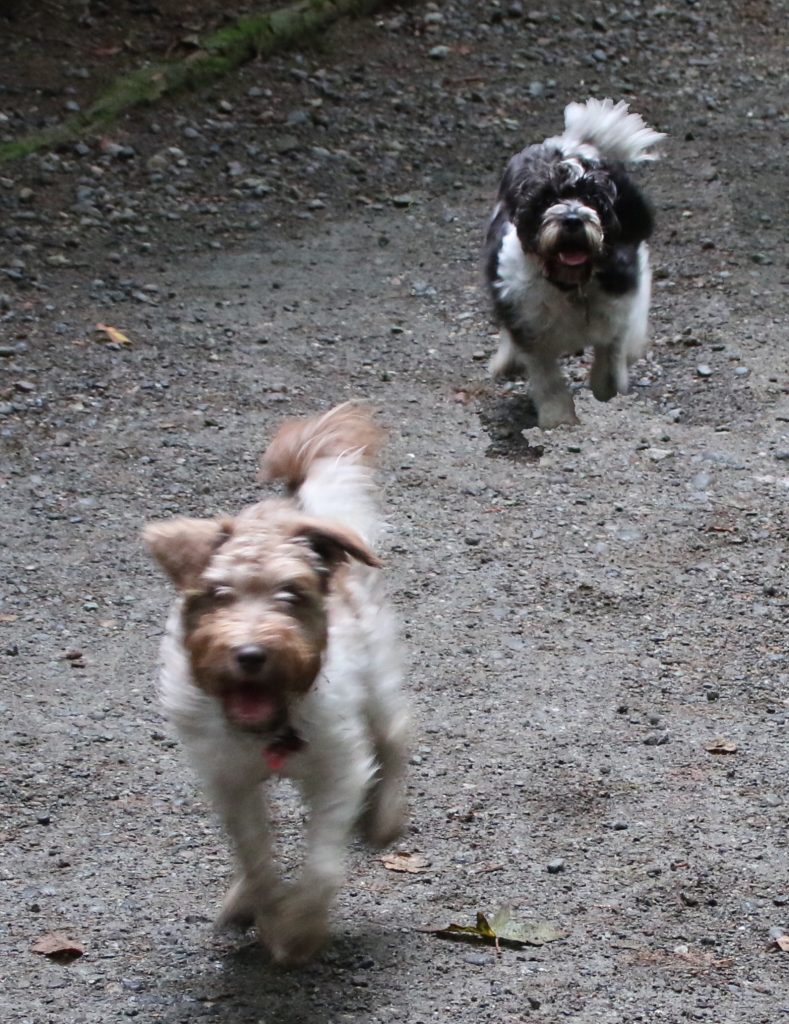 Cassie is the lady of the house. Around six years old, she informs Jill and David, her humans, of every coming and going in the house and her opinion thereof. Not particularly noisily. But firmly. She is affectionate and friendly.
Missy is the young upstart. Six months old and part schnauzer, she is an agent of chaos. Not least for Cassie, who tolerates her playfulness and constant ambushes with remarkable forbearance.
Jill and I spent the morning with Cassie and Missie on a long walk through nearby forest. Dark green, with luminous mosses, and home to a family of bald eagles, The forest is well-managed and very popular among dog walkers. We meet dachshunds, labradors, schnauzers, Visslers and two huge great Danes.
For an hour or so Cassie and Missy chase each other through the woods. Over hill and dale. It is exhausting just watching them.
We chat with their humans. Those are the rules as any dog owner will tell you. Name. Breed. Age. Potted life story. The usual stuff. We walked for miles. Best part? I totally forgot to use my walking stick. Dogs have that power.
I remember reading once that Catholics believe dogs have no soul and therefore will not go to heaven. But as Robert Louis Stevenson said, "Of course there will be dogs in heaven. How could it be heaven otherwise".
Good point. Didn't say anything about cats though. Sorry
Canada Diary 2: Cassie and Missy