Up in plenty of time to get to Gatwick. Probably enough time to walk to Gatwick, having been woken, as so often, around four by animals outside. This time it's the sound of copulating hedgehogs in the road outside. Time was when I would have been intrigued by the many nuances of Sonic's cautious courtship, but today, when sleep will be at a premiun, I can do without it. After enduring a quarter of an hour of prickly rumpypumpy I invite them to get a room! Those may not have been my exact choice of words.
My driver arrives at seven. We have known each other nearly a decade. We exchange brief pleasantries then hit the road. East Grinstead delays us by forty standstill minutes. Suddenly what was an easy drive becomes a frantic rush against the clock. We roll into Gatwick with minutes to spare. I dash upstairs to the disability desk and pick up a sunflower lanyard to the bewilderment of the staff. Then it's downstairs and a quick saunter through security courtesy of the sunflowers.
I grab a couple of chocolate bars, then make for Gate 51 where I am I am ushered onto the plane. The flight is uneventful. Because of the date – 13 – the plane is mostly empty. I spend much of the flight trying out different seat arrangements – a full length king size bed, spread across the central triple rank of seats., a sort of double length recliner, and, my personal favourite – a kjnd of modern chaise longue that took me a good half hour and entertained the stewardesses.
The flight to Victoria is much more interesting. A short hop (only 15 minutes) over the water on a tiny propeller plane, barely climbing above the treetops. The stewardess has only just finished her "Please pay attention to this special safety information"before telling us to "fold your seat table, switch off all elecronic devices and prepare for landing". Not even time to take the odd photograph despite spectacular scenery.
We fly over Iceland. I take a picture. We fly over Greenland. I take a picture. We fly over thousands of lakes in northern Canada. I take a picture.
Jill ambushes me in the baggage reclaim. Neither of us can really believe that I'm actually there – in British Columbia at the western edge of Canada.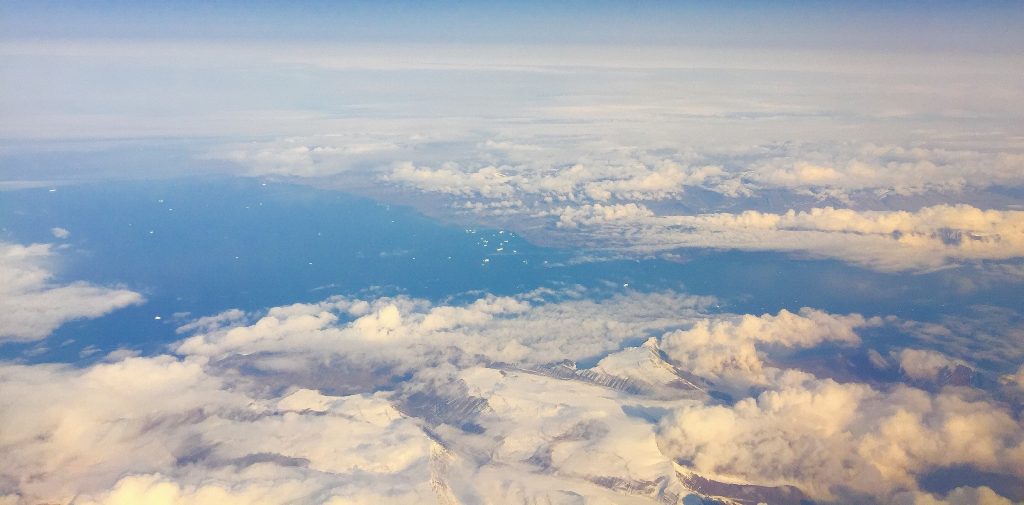 By the time we get to the house, I'm beginning to get my second wind. We decide, on a whim to catch a little live music in the evening.
My stomach does not know whether it's breakfast or dinner, Friday or Saturday. Fortunately Jill has cooked a huge mediterranean pie, the size of a manhole cover. And very delicious it is too.
The live music that evening is in the local coffee shop with local (didn't catch their names) musicians, a guitarist and a young dreadlocked girl who might have been her daughter played drums. Think of the coffee shop in "Friends" and you've more or less got the vibe. It's chilled. Welcoming. And good. Just what I need.
When the musivians are finished, they thank people who have travelled far. Jill leaps up, shouts "London, England" and gestures to my half slumbering figure. I have just finished the popcorn and I am not perhaps at my absolute best. But then it is 6am UK time. I think I've done well.
I sleep like a sloth. And dream for some reason of aeroplane seats. And hedgehogs
Canada Diary 1: The Longest Day